RENT-STABILIZED STUDIO TO TWO BEDROOM APARTMENTS FROM $1,130
Apply Today to Receive One Month Free on a 13 Month Lease
Rent Stabilized Apartments in Midtown West
No fee, rent stabilized apartments for moderate income residents can be found at 650 West 42nd Street. Spacious studio, one and two-bedroom layouts, many with open floor plans, high ceilings and hardwood plank flooring. Expansive windows boast breathtaking views of Manhattan and the Hudson River, and bathe the apartments in natural light.

1 Rent includes gas for cooking, heat and water. Tenant is responsible for electric.
2 Household size includes everyone who will live with you, including parents and children. Subject to occupancy criteria.
3 Household earnings includes salary, hourly wages, tips, Social Security, child support, and other income. Income guidelines subject to change.
4 Minimum income will be determined by available unit and may not apply to applicants with Section 8 or other qualifying rental subsidies.
650 West 42nd Street has diverse amenities, sure to meet the needs of everyone.
34,000 sq ft Health Club

Lighted Outdoor Tennis Courts

Indoor Basketball Court

Glass-enclosed Indoor Pool

Sundeck with Lounge Chairs

BBQ Grills and Picnic Tables

Enclosed Dog Run

Observation Deck

Private Event Space

Valet Parking and Driveway

Shuttle Bus

Children's Playroom and Playground
Located in Hell's Kitchen, in the vicinity of Times Square, 650 West 42nd is in one of New York City's most vibrant neighborhoods. Just blocks away you'll enjoy world-class theater, popular restaurants and shops, the Hudson River Park, the High Line and more. Nearby you'll also find the dynamic Hudson Yards and West Chelsea neighborhoods.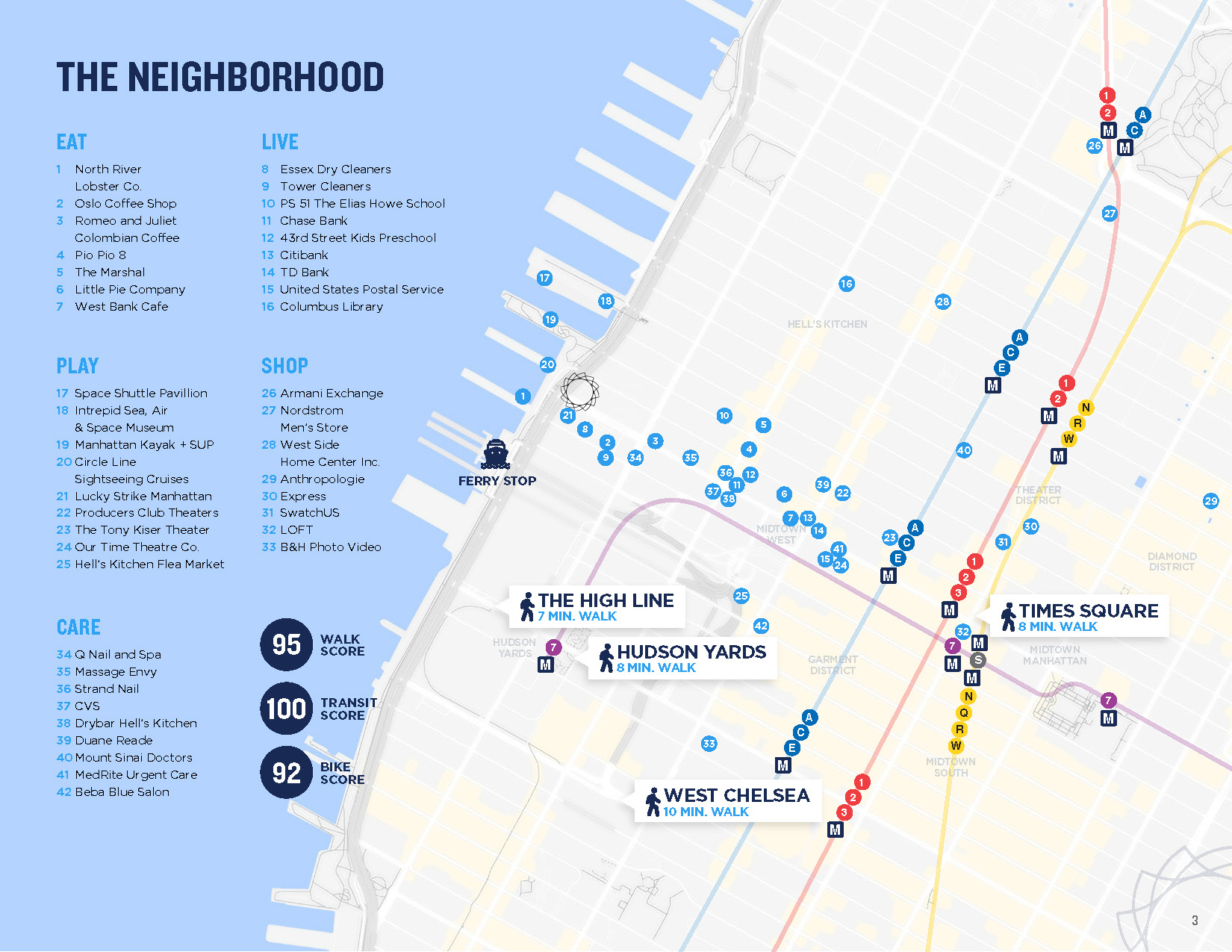 You can apply online by clicking on this link.
To request a paper application, call or text your name, address and project name to 929-344-1309, Monday- Friday 9am-5pm.
Moderate income apartments are only available through the lottery.
Be prepared to present copies of recent years' federal tax returns, recent paystubs, and copies of financial statements. A statement of projected income for this year may need to be provided. Start to gather these now so you will have them readily available if you are selected to provide more information. A detailed list will be provided at that time.
Household income may include salary, hourly wages, tips, Social Security, child support, and other sources of income. Gross income is used (income before taxes or deductions). For self-employed applicants, net income will be reviewed for current and prior years. Income guidelines are subject to change.
You only need to qualify for the apartment once, up-front. Since the apartments are rent stabilized, your rent increases will be based not on your income, but on what the Rent Guidelines Board determines each year. Provided you have followed the terms of your lease, you will have the option every year to renew.
Everyone who is within the income brackets shown on this website should apply. While it's true that many people associate "affordable" apartments with low-income, these units are considered moderate/middle income apartments. They are part of a limited program to help households afford an apartment in an area or building they would otherwise not be able to obtain.
For these purposes, a household is everyone who will be living with you in the apartment. If the applicants are not immediate or extended family members, they will need to show that they are financially interdependent to qualify as a household. Proof may consist of current leases or utility records that establish a shared address, and/or documentation that establishes shared assets.
Once the lottery closes, it can take 2-10 months to reach your application. However, once your log number and application is reached it will take 6-8 weeks to process your application. Once you have been contacted, provide the requested documents, and HPD approves/confirms your eligibility, you can sign a lease and move in. The apartments are vacant.
Yes, you will have access to all building amenities. The amenities fee will be waived for the first year.